Executives International's Golden Jubilee
Help us celebrate 50 years of business networking
2018 marks 50 years since Executives International was established in the Lac Léman region of Switzerland.
"In today's highly competitive world, an essential requirement for executive success is to continually upgrade the knowledge base, broaden the horizons and keep abreast of developments, not just in one's own speciality, but also in other business activities. Very often, in pursuit of these essential objectives, executives are unaware of another essential requirement necessary for successful personal development: human contact."
The original rationale for creating Executives International is as relevant today as it was in 1968, despite the changed (and ever-changing) world in which we live and work. Over the last 50 years Executives International has been supported by hundreds of members, now spanning at least three generations,and we continue to welcome professionals across all sectors of activity.
To honour this 50-year milestone, Executives International will be celebrating its Golden Jubilee with the busiest and most exciting calendar of events we have had in recent years. We invite all of our members and their networks to come and share this special year with us. Throughout 2018, we will be offering a special programme of events that marks our first half-century in a memorable and exciting way.
50 Years Past & Future
Executives International celebrates 100 years of change
The theme for the Golden Jubilee will be '50 Years Past and Future'. All 2018 Presentation events will be tailored to this theme, celebrating the most remarkable past achievements and offering insight into what the future holds. Leading scientists and researchers, CEOs and directors, financiers and entrepreneurs will deliver inspirational presentations,which will help professionals in all walks of life develop their skills,knowledge and networks.
Events will include:
7 Presentations with inspirational speakers and panelists
7 Practical skill development Workshops with business experts
3 Social Events to help you grow your network of connections
12 Informal 'First Monday' gatherings every month for meeting both familiar and new faces
Jubilee Programme: Confirmed Events
The Golden Jubilee Programme will feature leading business professionals and subject matter experts in Suisse Romande, who will deliver a range of workshops, presentations and networking events. More speakers and events will be confirmed in due course. Check back often for the latest updates to the Golden Jubilee schedule - or sign up below to EI Newsletter and get event alerts sent to your email inbox.
January 18th - Matthias Geissbühler, CIO, Notenstein La Roche Private Bank: How the financial and capital markets have evolved and will keep evolving
February 8th - Michael Møller, Director-General at United Nations Office at Geneva: World order in an age of uncertainty.
Challenges and opportunities for the UN and International Geneva
March 15th - Are Swiss Startups on the Road to Success? Come and Get Involved!
April 26th - Prof. Claude Nicollier, Swiss Space Center: Looking at Our World from Space
May 31st - François Carrard, IOC Director General (1989-2003) and Board Director of Olympic Broadcasting Services: What is the Future for International Sports?
September 27th - Prof. Patrick Aebischer, EPFL: How technology is changing the world
November 15th - Peter Brabeck-Letmathe - Nestlé Chairman Emeritus: Nutrition for a better Life - A Journey from the Origins of Industrial Food Production to Nutrigenomics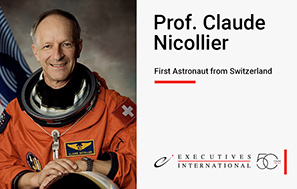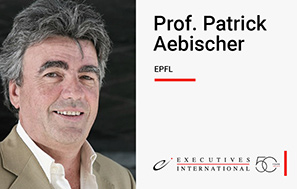 Workshop topics in 2018 include:
January 25th - Laura Penn: How to Talk like a TED-Speaker
March 1st - NB! Please note that due to unforeseen circumstances EI Workshop by Maggie Lu: Understanding TEAL - a new way to work, collaborate & make impact was postponed and replaced by the Negotiation in B2B – How to Get Your Best Deal workshop.
April 19th - Imogen Hitchcock: Writing communications with impact
May 17th - Mark Shepherd: Building brands with purpose
June 14th - Kelly Logan: Mastering the legal basics for any business
September 13th - Maria Wilhelmsson: Using Your Voice for Greater Influence
November 1st - Avinder Laroya: Solutions for Dispute Resolution & Mediation
Upcoming Events Upcoming Events PDF
EI Golden Jubilee Parker Pen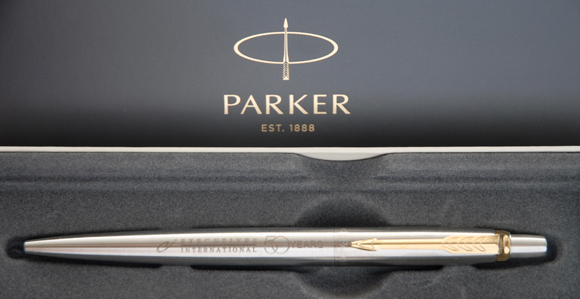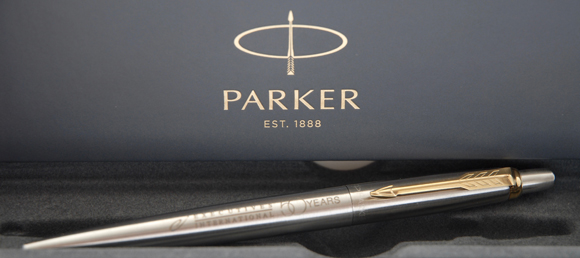 Executives International 50th anniversary Parker ballpoint pens are available for purchase when registering to events throughout 2018 and are also available on December 4th Christmas Cocktail in 2017.
The pen costs CHF20 and you can pick them up at any event you attend.
Become A Member
Sign up with Executives International for 2018
In our Golden Jubilee year, Executives International will host our busiest event schedule yet, with more great workshops, dinners and prestigious speakers than ever before. Become a member of the Executives International network in time for 2018, and enjoy a range of great benefits including discounted events, member-only offers, regular community news and updates, and access to a range of professional resources and contacts. Group membership packages and individual concessions are available under certain conditions. Sign up today - click below.
Sponsorship Packages
Get your business or brand noticed during the EI Golden Jubilee
Executives International offers exclusive sponsorship packages for businesses and brands who want to promote their products or services and increase awareness.You can sign up online to become part of our Golden Jubilee sponsorship team. Have your business or brand promoted before and during our events, exposing your name to our hundreds of members and mailing list recipients.
Make connections today with a tailored sponsorship package.