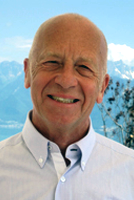 Nationality: Belgian
Profession: Innkeeper
Together with his wife Lael, a Ohio native, Armand operates Villa Lavaux, an upscale bed & breakfast property in the heart of Lavaux. Launched in 2011, Villa Lavaux has received wide coverage in the print media such as France's L'Express, Russia's MIR Magazine, and Switzerland's Südostschweiz-Sonntags-Zeitung.
Since his arrival from the United States 20 years ago, Armand has also directed Access Communication, an agency specialized in English-language advertising and PR supports serving corporate clients throughout Switzerland. The California Group, a San Diego-based consulting firm also founded and operated by Armand, was appointed by Vaud's cantonal authorities to serve the interests of its Office of Economic Development (OVCI) on U.S. soil in the late eighties.
Following his graduation in 1964, Armand was an educator at prestigious private secondary schools in Switzerland and on America's East Coast. His son and daughter are U.S. citizens and live in Southern California.