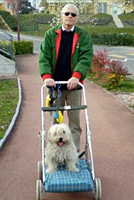 Nationality: German
Profession: Financials & Insurance
Born a Hamburger (his friends call him well-done), Ilja, unwilling to repeat a class, left school at age 17 in order to do an apprenticeship in business, an experience he highly recommends. Ilja worked for multinational companies in Germany, Mexico, San Francisco and Lugano before settling in Lausanne where he entered - what he calls - a "joint venture" with Deborah, his wife.
An alumnus of INSEAD, his career centered on marketing and general management positions. He prides himself of holding the world record in being fired or resigning over strategic disagreements until he decided to "get out of the corporate rat race" to become his own boss.
More by accident than design he ended up specializing in a field he always loved to hate, viz., finance and insurance. Convinced that only a global approach to financial and retirement planning yields optimum results, Ilja exploits, in particular, insurance products. They often compete, he says, very favourably with bank products. With the intention to offer a complete service, Ilja also provides health and non-life insurance.
Technically a FINMA approved broker he claims to offer a combination of competencies not found elsewhere. Ilja values his independence and insists that his loyalty lies with his clients, not the providers. He interprets his job as helping his clients making informed decisions.
A member of Executives International since 1989, Ilja offers to answer questions of EI members free of charge in English, French, German, Spanish, and Italian.