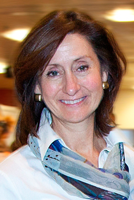 Nationality: American/French
Profession: Co-founding Director of Léman Events Sàr
Our Featured Member Melania Quinn was born in Ohio USA. While in the US she lived in several states and along the east coast: Ohio, Michigan, Florida and New Hampshire. As a young adult she travelled extensively internationally and held various positions in the travel industry, including Saudi Arabian Airways as a flight attendant between 1982 and 1986. She lived in Saudi Arabia, Italy and Paris, France before arriving in Switzerland in August 2000 with her husband and two children.
Melania studied at the American University of Paris and holds a Bachelor's degree in International Business Administration (cum laude). Upon moving to Switzerland Melania volunteered at theAmerican International Women's Club of Lausanne (formally the AWC) and served on the board in various roles for a total of six years. During that time she was elected President and held the position for two years.
As a "foreigner" in Switzerland Melania successfully established an entrepreneurial business here. In 2006 she co-founded, along with Jos van Megchelen, Léman Events Sàrl. Over the past six years Léman Events has promoted business and social networking for the international community living in Switzerland.
One key business segment since 2007 is the well-attended annual Léman Expat Fair, over 140 exhibitors and 3000 visitors during the one day event. The Fair connects people and businesses which are experienced in serving the expat community. In March 2013 Léman Events will organize its first Expat Student Fair at the Beaulieu Lausanne. To find out more visit the Léman Events website.Melania has been a member of EI since 2007 and she enjoys hiking in the Vaud region with her husband, two teenage children (when they're available!) and her golden retriever.