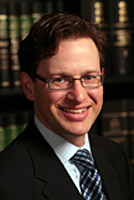 Nationality: Canadian
Profession: Lawyer
Our featured Member of the Month for June is Taras Kulish, a lawyer who arrived in the Lac Leman area of Switzerland in August 2011, and very quickly saw the value in joining Executives International. He was introduced to EI through longtime member Jonathan Fearn.
Taras came to Switzerland with his wife, Dr. Sandra Tsai, who transferred from Ferring Canada to Ferring International, located in St Prex; and with their two daughters. The Kulish family lives in Preverenges.
Taras is fluent in French and English and graduated from McGill University's Faculty of Law in Montreal, Quebec. He is a member of the following Bar Associations: Quebec (1991); Ontario (1993); New York State (1997). As the Senior Intellectual Property Associate at Steinberg Morton Hope & Israel LLP, a business law firm in Toronto, Taras travels between Canada and Switzerland to service the interests of his varied clients. He is a trademark specialist who builds client brands through innovative trademark applications; vigorous oppositions; and legal action against infringers. Everything starts with the client relationship; he gets to know the needs of the people involved.
Whether you need to prosecute or defend a trade-mark; launch or defend a lawsuit; purchase or sell a business; or buy or sell your dream home; Taras can take care of your needs in Canada and the USA. Remember: your concerns in North America can be looked after by a local Swiss resident.
Taras is also looking for strong intermediate level tennis partners, so contact him to hit some balls this summer!