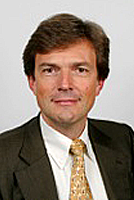 Nationality: Swiss
Profession: Executive Coach & Leadership Consultant
Willem Jan is of Dutch origin and now a Swiss national, who first arrived with his family in the Geneva-area at the end of 1986 from Germany.
After five years they moved to Zürich for a six-year period and then came back to the area for a second time in 1997, where they settled, with an interruption between 2000 and 2002 (USA), in Chavannes-de-Bogis.
After having been introduced to EI a number of years ago by John Toner, Willem-Jan decided to become a member in 2012 after he was reintroduced by Marie Garcia who spoke highly of some of the changes that had taken place at EI.
Willem Jan held numerous senior management roles over a 25-year period at HP, Agilent Technologies, Philips and Cardinal Health in the IT- and Medical Device industries. In 2007 he started HFSC (www.hfsc.ch) an Executive Coaching & Leadership Consulting business. The focus is on coaching of leaders (and their teams) in organizations, facilitating leadership development programs, change management consulting and career transition coaching. Willem-Jan works in partnership with other executive coaches and organizations, e.g. IMD.
He also is an adjunct professor for Management and Organizational Behavior at Webster University.
You can converse with Willem Jan in English, French, German and Dutch. He would love to discuss his current research for his DBA (Doctorate in Business Administration) at Grenoble Ecole de Management. He further enjoys tennis, golf and skiing as well as a good book, on Leadership and how we function as human beings, accompanied by a nice glass of red wine.
Please get in touch if you would like to chat further!