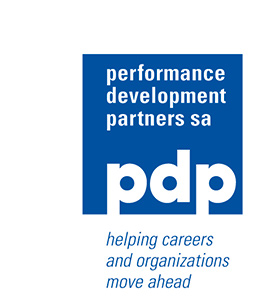 In these fast-changing times, companies, organisations and individuals all go through periods of transition. PDP provides professional help with services from traditional outplacement and career counselling to personal assessment, executive coaching and human resources consulting services.
PDP has office locations in Geneva, Lausanne/St-Sulpice and Bern with a professional team of fourteen consultants from a wide variety of business and professional backgrounds.
We invite you to visit PDP.
Contact
Performance Development Partners S.A
20 Route de Pré-Bois
P.O Box 1887
CH-1215 Genève 15
Tel: 0041 (0)22 710 09 70
Fax:0041 (0)22 710 09 79
hq@pdpeurope.ch
Performance Development Partners S.A
40 chemin des Jordils
Case postale 95
CH-1025 Saint-Sulpice
Tel : 0041 (0)21 695 60 70
Fax: 0041 (0)21 695 60 79
Mobile: 0041 /0)79 357 71 13
vaud@pdpeurope.ch