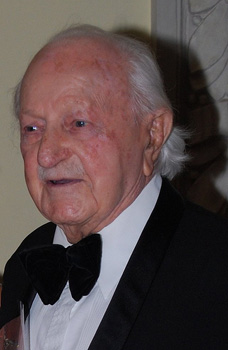 Maurice Raphaêl, 1910-2010
A page of our history was regrettably turned on July 11th 2010. With great sadness and a good deal of emotion Executives International said farewell to its Founder and Honorary Life President - and dear Friend, Maurice Raphael who passed away peacefully  just a few months short of his 100th birthday.
From its inception in 1968 and for well over twenty years Maurice ran the club he created - gradually building its membership, creating business-related events, inspiring speakers and tirelessly handling all the administrative tasks and member liaison single-handed. Now in its fourth decade, Maurice was extremely proud to see his club having developed into a dynamic, networking group serving members of all nationalities throughout the Léman region and beyond. Even of late, Maurice kept abreast of EI's activities and never failed to wish us well before an event.
For those of you who had the privilege of knowing Maurice, we are sure you will agree, he was a true gentleman and quite remarkable even in his 99th year. He always remained spot on with current affairs and wasnever lost for a pertinent story oran amusing anecdote. Maurice - an outstanding personality - with his gentle manner, humourand steadfast encouragement- will be sorely missed.
Maurice Raphaël founded Executives International in 1968.
While attending the English Speaking Club of Lausanne's Saturday morning coffee sessions, Maurice came to realise that there were many other international business men, industrialists and professionals needing a regular opportunity to meet each other and exchange ideas.
So in October 1968, he called together those he had met at these sessions for a business presentation by a Mr. Luigi  Dusmet de Smours on "The role of the Executive."  With 36 enthusiastic businessmen, he formed Executives International, for the specific purpose of sharing business knowledge and contacts.
While we are sad to say Hugo Camileri passed away in Spring 2010 and Michael Brandon in June 2012, we are delighted that Luigi Dusmet de Smours along with Jean-Claude Blanc, from that founding meeting are still members today.
The annual subscription began at a modest SFr. 20.00 and Maurice personally undertook, without charge, all the functions of president, treasurer, PR and administration - and continued running the Club by himself for the next 22 years!
Membership grew at a tremendous pace and in 1988 it peaked at 392 businessmen, representing 24 different nationalities.  Meetings were, by then, held at both lunch times and in the evenings.  Prominent guest speakers were invited and visits organised to some of the region's major companies such as Nestle, the PTT, Bobst, Castolin, and others.
But things then had to change.
Maurice needed help and employed administration services.  The membership fee was increased to SFr.75.00 and, by popular demand, women members were admitted.
In 1990 Maurice invited John Fearn to take over as President while Maurice remained the Honorary President
John was followed by Philip Hoegarts (1993-1996) and then Jonathan Bourget (1996-1998) took over as the first young President, changing the club again to attract more young, dynamic self-starters and corporate high-flyers.  He also further highlighted the presence of women by appointing Rena Zorren Brimelow as Vice President and Margaret Elkins Lang, as Director Administration. This trend to youthful liberation continued with the appointment in 1998 of the President, Jan Nigel Bladen,  Barry Craker (2002-2003) and also with Marco Baiguini in 2004, and for a brief tenure in 2005, Paul English.
Since 2005 Executives International is very ably run by its Committee. Today,  our club spans several generations, global business and the Suisse Romande and far beyond, in a networking spotlight.
Maurice Raphael -
What an acheivement - Congratulations!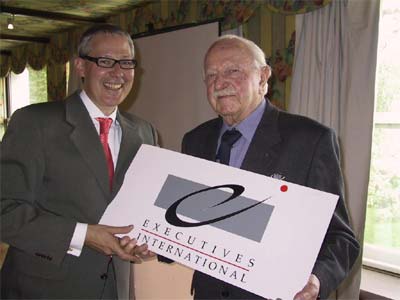 Mr. Maurice Raphäel, Founder and Honorary President of Executives
International with Mr.Marco Baiguini (President 2004-2008)