Pay your membership fee online via credit card
EI Membership Payment Slip BV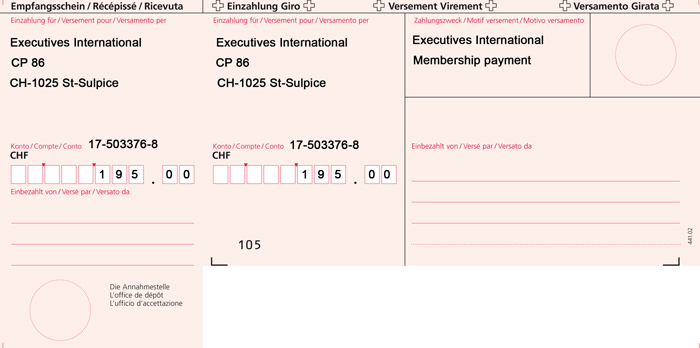 OUR BANK
UBS S.A.
Case postale
CH-1002 Lausanne
Executives International Account No. 243-291357.L1Y
UBS SA CH-LAUSANNE
Swift: UBSWCHZH80A
IBAN: CH23 0024 3243 2913 57 L1 Y
Please make sure that any payment is clearly identified with YOUR name.
---
OUR CCP (Postal Account)
No. 17-503376-8
Executives International
CP 86
CH-1025 St-Sulpice
---
CREDIT CARD PAYMENTS
You may make your Membership Fee or Event Fee payment by credit card (VISA/MASTERCARD) by providing full details to the Office of Executives International by Phone: 021 691 56 82 or by Email: info@executives-int.ch. (Please note that Credit card payments for events are debited the day after an event).
VISA/MASTERCARD payment, along with cash, is also accepted at all events.