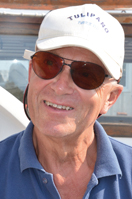 Nationality: Dutch
Profession: Entrepreneur
Our Featured Member in May is Peter Vrolijk, who has been living in Villars-sur-Ollon for over ten years.
After receiving his MBA from the Erasmus University, Rotterdam, Netherlands he started his career in marketing. At a then very young age of thirty-one he became Managing Director of a Dutch supermarket chain. When he thereafter became the Managing Director of a company with over three hundred confectionery stores that was about to go bankrupt, he grabbed his chance and acquired the company. After turning it around he sold it and went to Harvard Business School to get recharged.
Peter continued to turn companies around. After a successful acquisition and subsequent divestiture he decided to leave the rat race, had his yacht built and sailed around the world, which, as he frankly states, took many more years than he promised his wife. Still, he returned into business life to run a company in East-Africa.
Currently, Peter prefers only to be on the helm of his yacht and not on the helm of a company and to devote his knowledge and experience in coaching and counseling individuals at Board level and some lecturing.