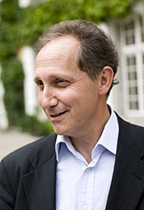 Nationality: United States / Swiss
Profession: CEO MyGolf S.A.
Tom Rosenfield was born in New York City in 1954 and graduated from Friends Seminary in 1972. He received his university degree in Mechanical Engineering and Materials Science from Duke University in 1976 and began his career with the Dow Chemical Company (Midland, Michigan). In late 1977, he was recruited by Solarex Corporation (Rockville, Maryland), the leader in photovoltaics (solar electricity) to develop a viable encapsulation technology. He coordinated several major research contracts for Solarex, the most important being a $10 million grant from the United States Department of Energy to develop semi-crystalline silicon which is still today the most widely used substrate for silicon solar cells.
In 1982, he moved to Switzerland to become Managing Director of Solarex Trading S.A., the European headquarters of Solarex to develop their European market and manage the technical liaison between its affiliated licensees in England, Holland, France, Italy, Germany, Switzerland and Spain.
In 1990, Rosenfield left the field of solar electricity to start Infotrak S.A. which developed and manufactured electro-dynamic signage for outdoor and sports advertising. Infotrak S.A. was also responsible for marketing and sponsorship of the Lausanne Hockey Club and several other sports organizations.
Rosenfield is currently the CEO of MyGolf SA, which organizes golf tournaments and clinics in Switzerland and is the developer of www.GorillaGolfBlog.com, The Source for your Passion, a slightly off-centre take on the sport.