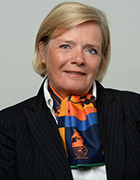 Nationality: German
Profession: Senior Legal Counsel
Born in Westfalia, Ulrike studied in the Ruhr Area and Bonn, serving her mandatory legal training in Hamburg and the chance to get a first work experience in the world of US law in San Francisco. This was her start for a successful career of almost 25 years in the IT industry supporting US corporations (like Microsoft, Sun Microsystems, Motorola, salesforce.com etc.) and their EMEA and APAC operations in and from Europe. Building and organizing their legal departments and serving as their head of legal.
In 2005 Ulrike moved to Switzerland as salesforce.com's EMEA GC, later served at Citrix and Sourcefire. During her 10 months sabbatical that took her around the world and many places in Europe, Ulrike also became a certified Compliance and Data Protection officer. She is now helping 'start ups' to successfully do their first steps and is looking for a new challenge, where she can successfully apply her experience and expertise.
Ulrike speaks German, English and French.