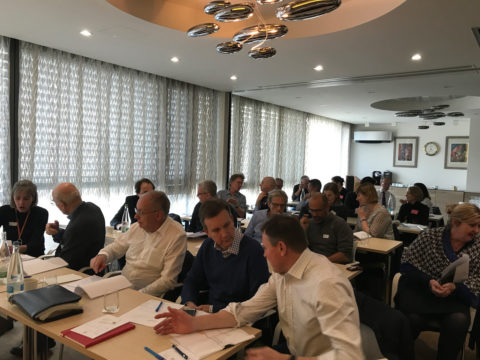 February Workshop – a great success!
Digital Marketing was the featured topic for the Executives International workshop on 21 February. The room was full, with 26 people interested to learn more. Kristiina Urban of UrbWorks shared her insights on how small- and medium-sized businesses can optimize their website for lead generation.
She shared tips focused on 5 key chapters as described below.
Create a solid foundation

Identify your core value offer including the problems that you solve and benefits you offer.
Understand your ideal client including who they are and where you can find them.
Be aware of what topics interest them and where they are actively involved.

Start with your visibility

Understand paid vs. organic traffic, i.e. Google ads vs. Google search. Strive to be on the first page of a search related to your key terms through search engine optimization (SEO).
Register with Google's
Test your website on your mobile phone to be sure it looks right. The trend is to search for information on small screens and purchase on large screens.
Test your website security to be sure it contains the link https (instead of http).

Content as traffic management

Content is the key to brand awareness, fresh material, website traffic and leads and conversions. Develop content that is interesting for your ideal client.
Aim for quality over quantity. Showcase your expertise and provide valuable information.
Consider adding video to your website as it is the fastest growing medium.

Convert visitors into leads

Gather contact details (with GDPR consent)
Provide offers at different stages of conversion, i.e. free download, register for a webinar, face-to-face-meeting.
Consider landing pages for targeted offers.

Activate your marketing channels

Develop a social media strategy. Understand where to find your target client on LinkedIn and Facebook.
Consider digital advertising where it makes sense
Implement email marketing through automatic emails at different stages in the process.
The workshop was an excellent overview and refresher course for the key elements of a Digital Marketing strategy.  For more insights contact Kristiina Urban: kristiina@urbworks.com.
The presentation slides are available to EI members on the resource page.