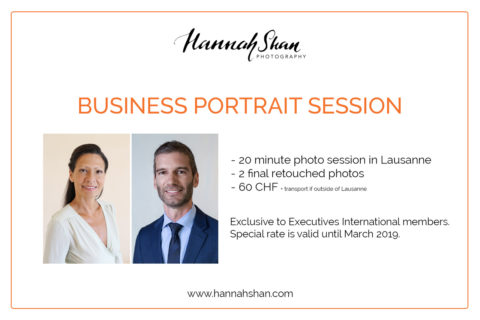 EI Members Offer: Professional Digital Portrait by Photographer Hannah Shan
If you want to stand out from the crowd among the huge professional scene online, you need a striking profile photograph. This picture can appear on your social media profiles, your LinkedIn page, your CV or your own corporate website. A great professional photographs can show your clients and your competitors that you mean business, and it can give a personal touch to your web content and company materials.
Lausanne photographer Hannah Shan has an exciting offer for EI members. She is offering a discount on portrait photography sessions, so that our network of members can sharpen up their personal profiles with portraits and headshots.
Offer includes:
Photo session with Hannah Shan (20 minutes)
Two digital photo files, professionally retouched
EI members can save 10 CHF with this exclusive offer. The package costs just 60 CHF for session bookings within Lausanne. The photographer can also travel further on request: in this event, transport costs will be added to the final fee.
EI members can take advantage of this great offer, which is available until March 2019.
Contact:
Hannah Shan
hannahshanphoto@gmail.com
+41 78 607 63 22
www.hannahshan.com
If you are not an EI member or if your membership has lapsed, you can sign up or renew online right now. Members get plenty of great benefits, from discounts and exclusive offers to incredible events. Don't miss out - sign up today!